A JOURNEY WITHOUT A SET DIRECTION CAN NOT REACH THE HORIZON !!​គ្មានជីវិតណាដែលអាចសម្រេចជោគវាសនាដោយគ្មានកំណត់ទិសដៅ ..!!
" SNARM...THE STONE THAT EVERMORE STANDING AND TALKING .! " by ចក្រា​ អឿ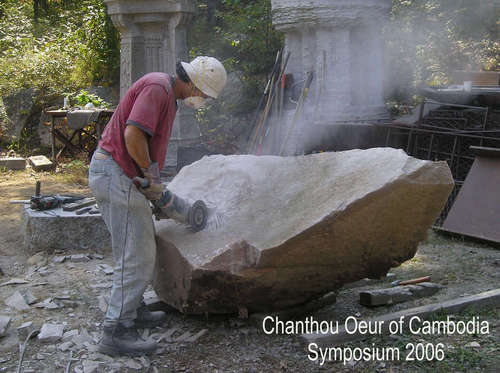 Chakra Oeur
ចក្រា អឿ
Chakra(Channthou) Oeur, also known as O'Bon, was born on a small sandy island about 20 miles from Phnom Penh. Orphaned at an early age, he was raised by various foster families as well as by monks. He claims his most valuable learning came from his time spent living in Buddhist temples.
The social and political turmoil in his country led him to leave Cambodia in the 1980's. Yet he fled his country firmly committed to making "the world aware of the suffering life his homeland experienced under the communists and also to prove to the world the rich culture hidden within the depth of Cambodia's long and glorious history."
Self-taught, Chanthou Oeur works in a variety of mediums, including stone, metal and wood. His art began, he relates, "sometime so early in my life, perhaps at the age of 2 or 3, when my hands started to coordinate with my eyes." He has difficulty knowing "whether art is part of his life or his life part of his art."
Over the last two decades Chanthou Oeur has participated in a number of exhibitions. He won the first prize at the global Cambodian Art Festival in Longbeach, California, participated in the Smithsonian's Natural History exhibit Across the Seas and Over the Mountains, and took part in a Khmer Arts exhibition at Chicago's Field Museum of Natural History. Recently he presented his poetry and art at the Weisman Museum in Minneapolis, Minnesota in an exhibition entitled Facing Death.
With his simple philosophy " The more you share the more you get .. the more you teach the more you know " , Chanthou embraces his multi talents working world wide with a promisory commitment to retracing his way back to his homeland ,where he thinks he belong to , at last chapter of his life .